Hello Family, Are you in need of some High Quality Gospel Radio Imaging such as, Dj drops for your Gospel Radio Station, Gospel Radio Show, Podcast or your Gospel Mix, then you have come to the right place.
I would love to help you take the Radio Imaging of your Gospel Radio Station to another level.
Here are a few articles that show you the importance of having good radio imaging for your radio station.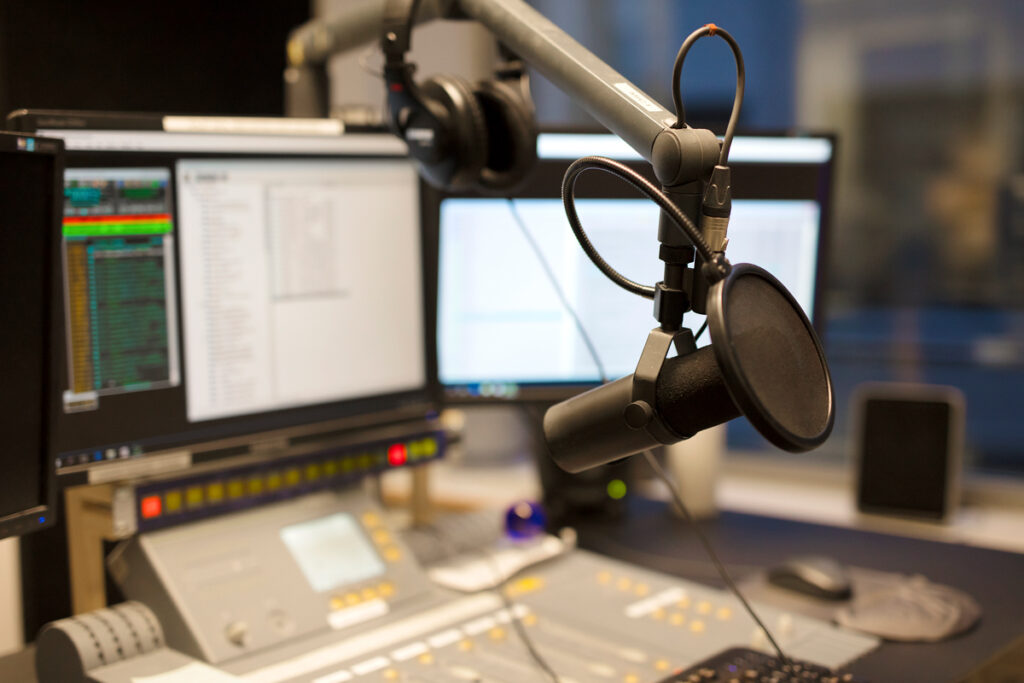 One clear way of sonically branding your radio station is the use Radio Imaging (thevoicerealm.com)
What Is Radio Imaging and Why Is It Important to Your Radio Station?
by Emma Jaimeson Radio is clearly a distinct form of entertainment, relying solely on sound, therefore a defined sonic branding is needed to distinguish one radio station with others.
One simple way of sonically branding your radio station is the use of Radio Imaging
Radio Imaging is a radio station's signature sound composition that enables listeners to easily identify the station from the rest in a given market. It can showcase the station favorably against competitors and gives the listeners an idea of what to expect in terms of content or format. Radio imaging is the general term used for varied on-air sound effects that identify, brand and market a particular radio station like radio sweepers, intros & outros, bumpers, stingers and drops.
Radio Sweepers – are segues between songs that give listeners a brief station identifier or promo, generally 20 seconds or fewer.
Intros/Outros – are the show's signature. It introduces the start of a program or signals the coming end or wrap up. It can be pre-recorded or done live over music.
Bumpers – Usually comprises a voiceover and music that acts as a transition. For example, coming back from a commercial break, or move from one segment of the show to another. These are usually short, about 5-10 seconds.
Stingers – are short sound effects, pre-recorded words, fast piece of music (1-3 seconds) that are played to give emphasis to something said by the DJ.
Drops – These are sound bites lifted from movies, TV, or songs. The length of Drops varies and can either be used as an emphasis or a transition.
At gospel dj drops we specialize in producing urban dj drops to help the Gospel Radio station take their imaging to another level.
The combined sound elements produce an overall sound imaging that helps to position the radio station within their market.
They design it to appeal to a certain demographic of the audience that the station wish to attract. Overall, it sets the mood, tone, and energy of the station, while also building a brand of familiarity and loyalty with the listeners.
The radio imaging defines the radio channel sound, except for the actual music or talk content. It also creates fillers and transitions between the programs, providing the listeners a more complete and seamless listening experience.
It is important to create a defined radio imaging to promote brand recall.
You need to have a consistent radio image scripting by using targeted language and terms that listeners can relate to; and a use voiceover that can give the station a distinct style and tone.
These fillers and transitions help remind the listeners which station they are listening to and with an effective Call-To-Action can keep them tuned in during breaks or commercials, and also direct them to your website or social networks which helps you build your online presence.
Styles of Radio Imaging The style of radio imaging is determined by the type or genre the radio station wants to maintain. Below is a guide to the different radio station formats and their common target audience sourced from New Generation .
Radio stations should properly match their imaging with the format or genre of their station.
Source: thevoicerealm.com
Radio Imaging – Christian Gospel
One of the way to make your Radio Station stand out from all the other radio stations is to have High Quality Radio Imaging.
Now the challenge for some stations is they may not have the staff to produce high-quality imaging. Well, that is where I come in. 
At Gospel Dj Drops we have studio equipment that will produce high-quality dj drops, radio sweepers, Radio ads, podcasts intros and more.
If you would like to hear a sample of our work, you can listen to the video on top of this paragraph.
Download 10 Free Gospel Dj Drops
At Gospel dj drops we love helping people take their Radio Station Imaging to another level.  We love it so much that we would like to give you 29 Free Dj Drops that you can download today and start using on your Radio Station for FREE.
Radio imaging voice over that helps your station stand out from the rest
If you want radio imaging that will help your station stand out from the rest at affordable prices, then like I said earlier, you have come to the right place.
Here are the packs we offer at Gospel Dj drops
Dj Pack #1 – $5 ( 10 Word Limit each Dj-Drop )
1 Custom DJ Drop
Voice Only
All in one .MP3 File
Dj Pack #2 – $30 ( 15 Word Limit each Dj-Drop)
Everything in Pack #1 Plus:
Sound Fx
Stutter Fx
One .MP3 File
Dj Pack #3 – $55  (20 Word Limit for Dj-Drop)
Everything in Pack #2 Plus:
World Famous Pitch Shift
Boost Your Drops and Make Them Radio Ready
Unlimited Revisions
Here are some samples you can use"
Dj Drop 1: We Play Nothing But The Jamz Right Here On 107.5 FM Your Hit Gospel Station,
(I Will Put Your Radio Station Where It Says " 107.5 FM " )
Dj Drop 2: What Up Fam It's Dj LightHouse On Your Favorite Gospel Station
( I Will Put Your Dj Name Where It Says " Dj LightHouse " )
Dj Drop 3: You Are Tuned In To the Hottest Gospel Station 107.5 FM Keep It Locked.
(I Will Put Your Radio Station Where It Says " 107.5 FM " )